Junior the Yorkshire terrier was bitten by an adder and has had his leg amputated
A Yorkshire terrier has had his leg amputated after being bitten by a venomous snake in the Scottish countryside.
Eight-year-old Junior was attacked by an adder while on a walk in Perthshire with owner Lucy Gordon and her two other dogs.
Junior is in a critical condition after being taken to the Edinburgh Veterinary School to have an anti-venom administered.
The tiny dog faces a fight to recover.
Lucy, 23, told BBC Scotland that Junior had been moved to their own vet in Aberdeen where the amputation took place.
She said: "The tissue damage was beyond repair. The operation was successful and Junior is now a member of the three-legged-dogs club.
"They had to remove more of the leg than we expected but he would have been unbalanced otherwise.
"He had a comfortable evening but they are still concerned about him, as he hasn't eaten for days. He has been put back on to the feeding tube and the glucose drip but he needs to eat to mend."
The incident happened on Saturday, but it wasn't immediately clear what had happened to Junior.
Speaking to the BBC's Good Morning Scotland programme, Lucy, from Pitlochry, said: "We had a beautiful walk along the River Tummel. Junior gave absolutely no indication to his injury or that he had been attacked."
Large puncture wound
She said the dog was then very uncomfortable in bed, grooming himself all night.
"The following morning I checked his paw and found that he had a small cut on the underside of his pad. I bathed it with salted water, treated it with an antiseptic cream and put on a little sock. I thought he had stood on something sharp.
"The next morning when I went to repeat this bathing process I found the leg was really swollen. I shaved the fur on his leg and found blistering. That was when I discovered the large puncture wound."
She did not even realise at that point it had been a snake that had bitten him.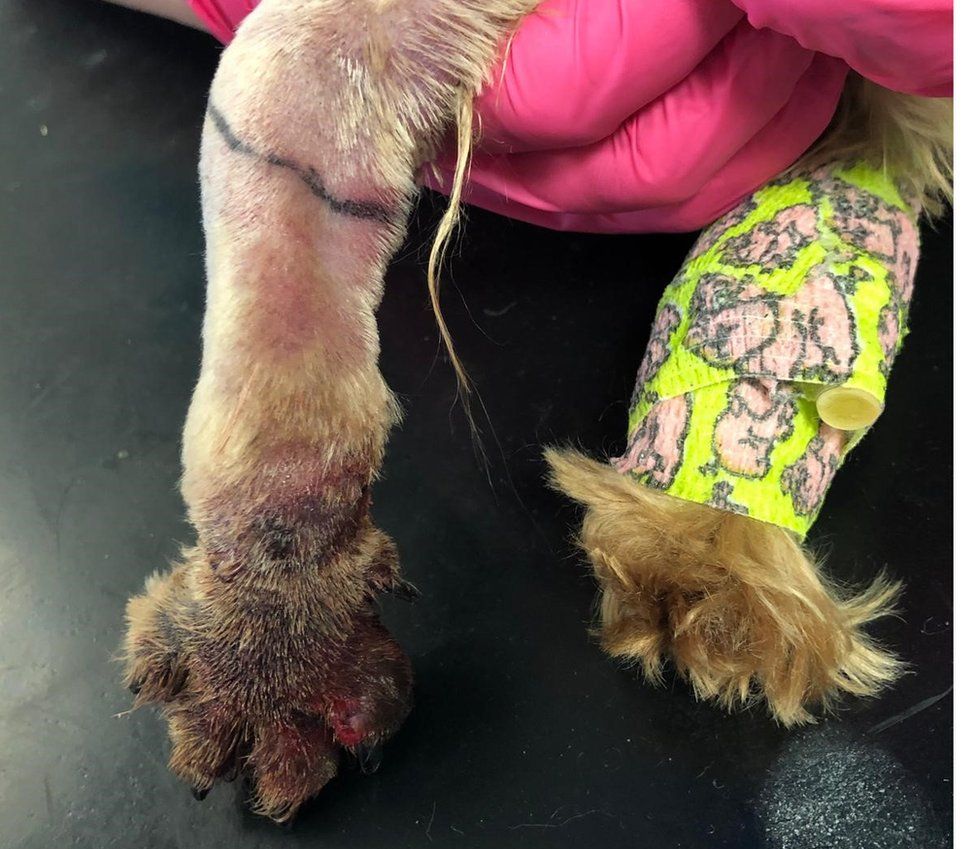 "When the vet told me I was completely shocked," she said. "He was referred to the Edinburgh Veterinary School who administered him with an anti-venom which isn't stocked in general practice. They only have a short window in which to treat a snake bite.
"He was admitted to ICU because he was in such a critical condition. He had low blood glucose levels. He was put on to a drip and a feeding tube, and had a rough first couple of days.
"The vets were worried about him suffering from organ failure and potentially developing sepsis."
Lucy was unaware of the dangers of snakes, and in particular adders in her area.
The adder is Scotland's only native snake and its only venomous reptile. It is a timid creature and usually hides in the undergrowth. It will will lash out to enable its escape from predators.
Lucy wants to warn other dog owners about the dangers.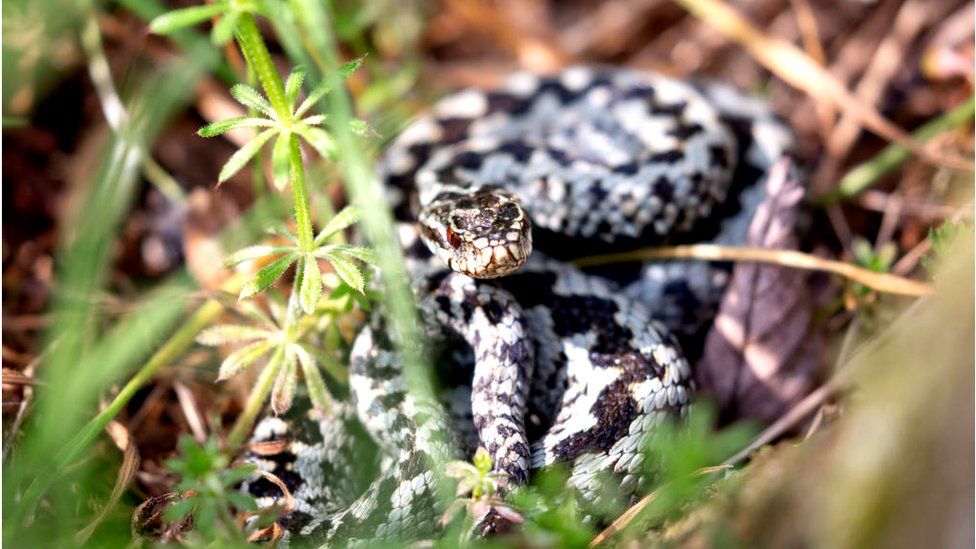 "You hear about things like this happening to other people but it can, and it has.
"Junior showed no indication of being bitten. If anybody suspects this has happened to their pet, timing really is everything. There is an anti-venom but there is such a short timeframe for the vets to be able to administer the drug so you really have to work very quickly."
Junior is the smallest amputee the vet has had to perform the procedure on. And Lucy is now praying he takes a positive turn.
"We haven't seen him. He isn't home. He is not in the clear yet."
Heartbroken Lucy has set up a fundraising page "Help Junior's vet bills" to cope with his treatment costs.
Junior's care could cost more than £4,000.
source: bbc.com